I get quite few requests for Antique Style Decoys.
Most of the decoys I carve are contemporary styling.
My patterns are based on the type of patterns that are winning decoy contests now.
I do however favor the older style decoy. This is evidenced by the MCN canvasbacks that I carve, sell and love.
First off is the style of Noah Sterling,a Crisfield MD contemporary of the Ward Brothers. Originally introduced to me by Mr Richard Smoker in Decoy Magazine.  I am reminded of the Redheads that Max Neumann gave me from his rig used at Fish Point on Saginaw Bay.
These are all hollowed cedar with cedar heads and are self-righting
They really float on the water well.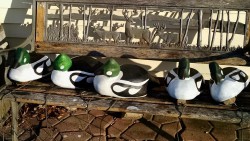 Drop me an email if you are interested in acquiring some of this style Goldeneye's.
Don't forget to email JACDUCKS today or